Page 1
PICTURE GALLERY
" SALTEN MARKED "
2002
(Photos and text about Salten Market from 2002 to 2015 -
see hyperlink at the bottom of this page)
--- (Please have patience – loading pictures). ---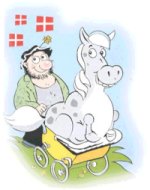 Salten Market is one of the most popular markets for dealers
and tradesmen travelling from one market to another.
Every year the stalls are sold out very quickly.
About 300 dealers are selling everything under the sun
and in addition to that about 100 dealers with animals are expected.
Approx. 75,000 people are visiting the Salten Market every year,
many of them being from the local communities of course,
however, the vast majority come from far away to take part in the fun.
Many come to experience the special atmosphere on the market - for instance at the horse dealing,
but also important at the expectation of finding a thing (new or second - hand) for his/her collection.
On the market place there will also be a fun fair and beer and dance tents.
-----o0o-----

Read more about the Market on: http://www.saltenmarked.dk/
( Sorry danish language only ).

-----o0o-----
Since we live right next to the Market-Place, it has been a tradition for Years that,
Families, Friends and Neighbors come and stay at our House and Garden during this week-end.
(Mostly around forty people together).
-----o0o-----

Saturday:
We always grill a Pig on an open Fireplace and it`s served right from the Spear
together with many different kind of Salads, --- and of course lots of Beer, Wine and Pops..
After dinner, we all go Dancing in the big Market-Tent.
Around midnight it`s back to our House/Garden for midnight snack/beer and snaps.
There are many Tents in our Garden so all the Guest can have a place to sleep.
( No one drives Car that Night ).
-----o0o-----
Sunday:
Everyone have Breakfast in the Garden, and after that a visit to the Market-Place.
At the Market there are all kinds of rare Stuff to buy, or just looking around is cozy.
Furthermore there is a huge Fairground with a big "Tivoli" which the Kids just love.

Afterwards we all join in at Milles famous Lunch in our Garden,
And later a nice cup of Coffee or Tea.


" A very fine and comfortable tradition. "

-----o0o-----

Pariser-wheel 38 meter in height.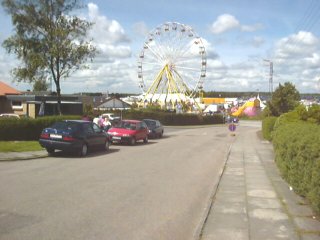 -----o0o-----
The view from our House to the Market-Place.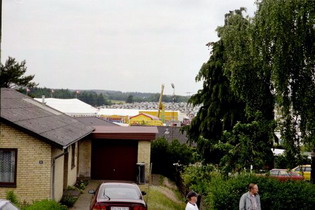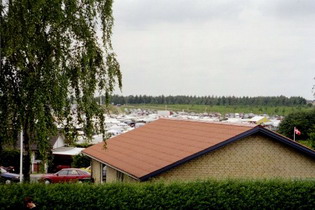 -----o0o-----
Various Pictures taken in our Garden.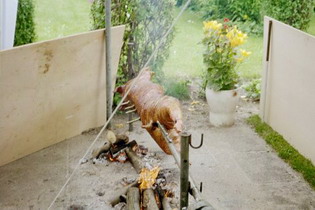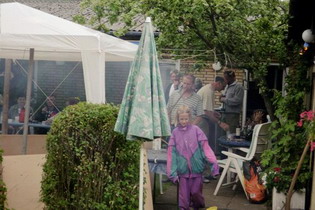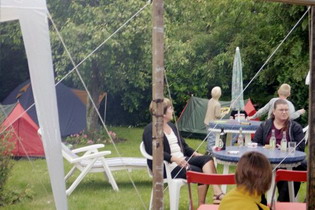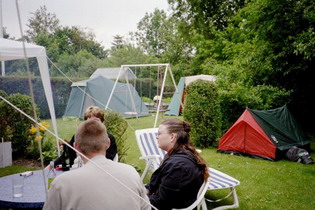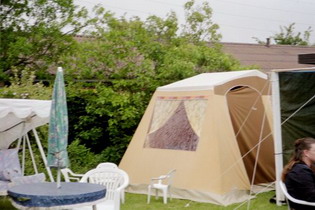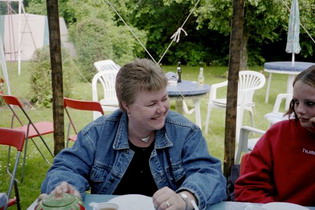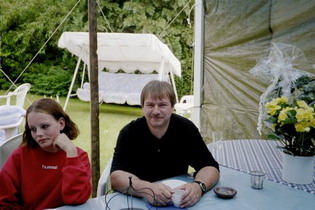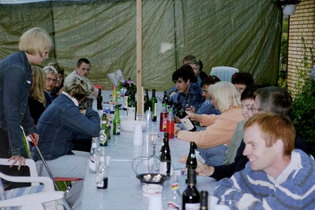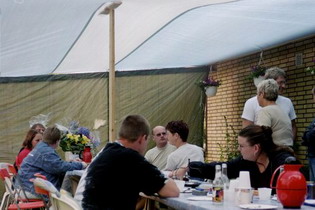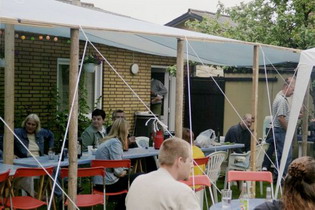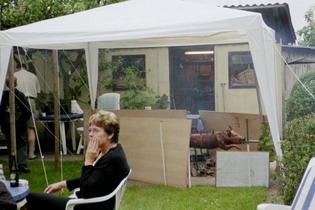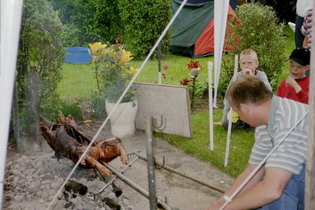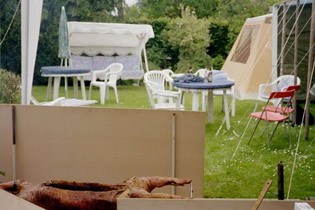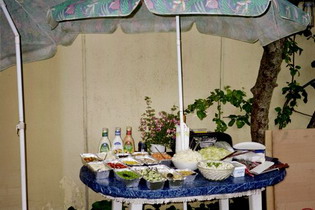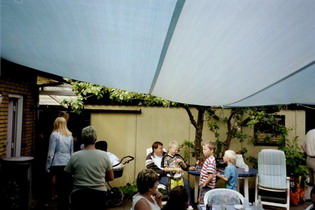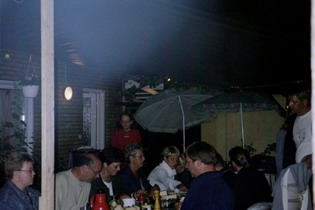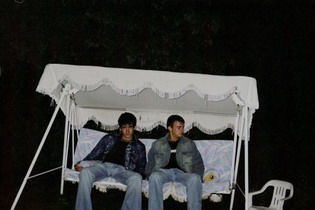 -----o0o-----
Sunday afternoon, the Canvas-Cover is removed.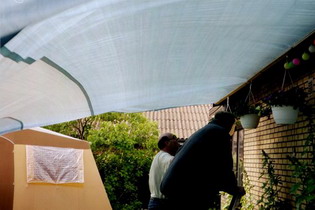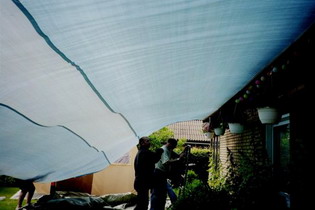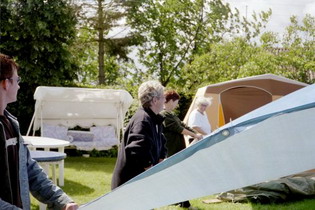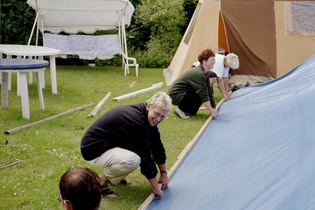 -----o0o-----
Thank you and goodbye
Will see you next Year
Same time same Place.

--------------------o0o--------------------

(You are now on page 1 of 14)

TO - SALTEN MARKED PAGE 1 - (2002)

TO - SALTEN MARKED PAGE 2 - (2003)

TO - SALTEN MARKED PAGE 3 - (2004)

TO - SALTEN MARKED PAGE 4 - (2005)

TO - SALTEN MARKED PAGE 5 - (2006)

TO - SALTEN MARKED PAGE 6 - (2007)

TO - SALTEN MARKED PAGE 7 - (2008)

TO - SALTEN MARKED PAGE 8 - (2009)

TO - SALTEN MARKED PAGE 9 - (2010)

TO - SALTEN MARKED PAGE 10 - (2011)

TO - SALTEN MARKED PAGE 11 - (2012)

TO - SALTEN MARKED PAGE 12 - (2013)

TO - SALTEN MARKED PAGE 13 - (2014)

TO - SALTEN MARKED PAGE 14 - (2015)